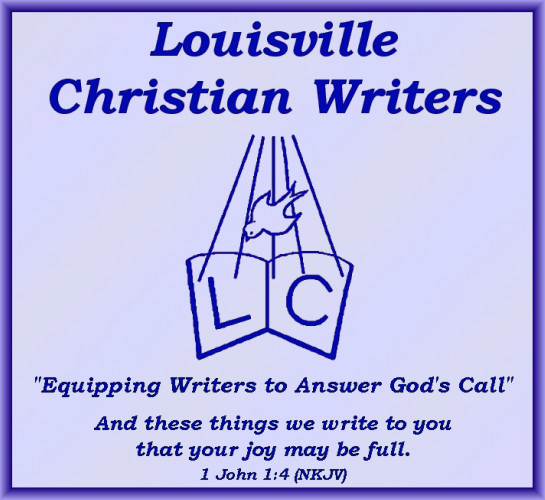 Thank you for visiting the home page for Louisville Christian Writers, aka LCW. To contact us & to see current events, please visit us via the contact icons at the top of any page, or click the e-mail link at the bottom of this page below the info for our upcoming meeting. The secure direct link to our Facebook page is https://www.facebook.com/lcwriters and our Twitter is https://twitter.com/lcwriters. We hope you enjoy your visit, and we hope to see you at one of our local gatherings some second Saturday of the month. So you can plan ahead and mark your calendar, a list of all meeting Saturdays is in the framed image below. Meeting details for the next upcoming meeting are below that. Also, please visit our Google Maps page where you can find our location and get turn-by-turn instructions to get to our meeting place from your starting point. God bless you with His creativity today and always.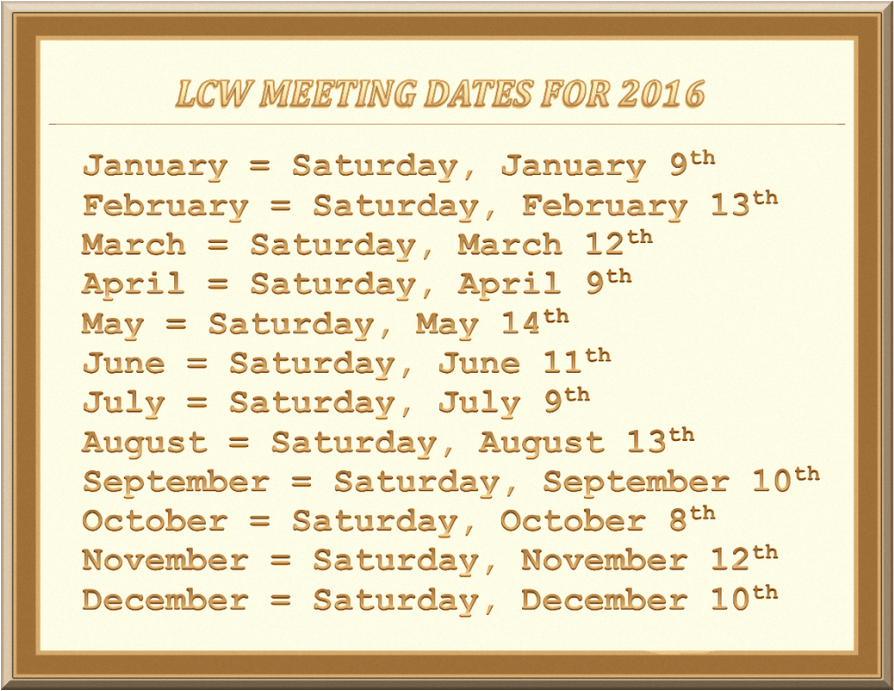 ~~NEXT MEETING~~
Saturday, August 13th, 2016This August, we are in for a treat with an award-winning local author, Betty Thomason Owens. Betty will be teaching us how to Research Your Historical Novel. While research technique can be applied to a multitude of fiction genres where the writers want to base as least some things in reality, those who love imagining what it might've been like "back in the good 'ol days" are surely going to enjoy this get-together. See below the basic meeting information for details on the class, and now, here is some information on our presenter.Betty has recently won a Grace Award for her novel, Annabelle's Ruth. Read her site post of the announcement and her reaction for more information. In addition to this award-winning novel, Betty has four more novels and is a contributing voice to a four-novella set of stories about love and adventure by multiple authors. Find all her books, and follow her for updates, at her Amazon author page. If you are a fan (or want to become a fan) of Betty's historical romance novels, fantasy adventure novels, or romantic comedy novels, be sure to follow her Facebook author page and/or Twitter feed. Betty is also part of the crew for a blog for writers called Writing Prompts & Thoughts & Ideas...Oh My!Now, here's the basic information you need if you want to attend the August LCW meeting...
Below is our basic meeting location along with other information. Please note the change in time for our critique session and meeting start time that began with our September 2015 meeting.
Location... Community Room on basement level LL2 (near the cafeteria) at Norton Audubon Hospital. The building is located just off of Poplar Level Road in Louisville, Kentucky. (For directions, click the Google Maps link above or type "1 Audubon Plaza, Louisville, KY 40217" into your GPS or map program.)
Day/Date... Saturday, August 13th, 2016

Doors Open... 5:00 p.m
Critique Time... 5:15-6:15 p.m. If you're joining us for this meeting, it's a great night to bring something for critique time. If you have nothing for critique, you are welcome and encouraged to share your thoughts on someone else's writing. You can also use this time to get some of your own writing done while away from ringing phones and other home distractions. Take these moments to make a list of some answered prayers you can use to your writing exercise topic. By the way, it's also a nice time to grab a little dinner from the cafeteria or one of the surrounding fast-food restaurants.
Meeting... 6:30 p.m. to 8:00 p.m. We will begin the meeting with prayer and some quick meeting business, like information about prayer requests & offering. After that, we will bring up our speaker to make sure she has plenty of time to share her treasure chest full of helpful wisdom. Join us and bring a writer friend.

LCW WELCOMES YOU TO OUR MONTHLY GATHERING
To find out more about our former meetings, and to make it easier to bring ideas for 2016, be sure to browse through our archives of 2014-2016 meeting announcements. The link is in the ribbon banner above.
~~~~~~~~~~~~~~~~~~~~~~~~~~~~~~~~~~~
A little more...From Betty's overview document on the class...
Research Your Historical Novel
You can't do too much research, but you can use too much of your research.
During this presentation, I will discuss the following:

You can find almost anything on the internet.

Learn how to ask the right questions.

You can find almost anything on YouTube.

Make tracks – bookmark your pages.

Download photographs (royalty-free please!) to a Pinterest page for your book.

Keep accurate records of where you obtained your information.

History.com

Word of mouth

Travel

Find and read books and articles.
We're looking forward to fellowship with members and guests as we gather to hear Betty's presentation. Be sure to come early for critique time to get the most out of our meetings. As always, may you be greatly blessed in every moment you live--and write--for Jesus Christ, Our Lord and Savior.
~~~~~~~~~~~~~~~~~~~~~~~~~~~
NOTE: If you are a Kentuckiana Christian who writes, please come meet our members to see if you would like to join this group of writers and creators for our monthly meeting on the 2nd Saturday of each month. We will welcome you with God's Spirit of love and joy as we encourage you to pursue the gifts God has blessed you with. Write to us at the link below, or on our Facebook page or Twitter page (icons above), for more information.