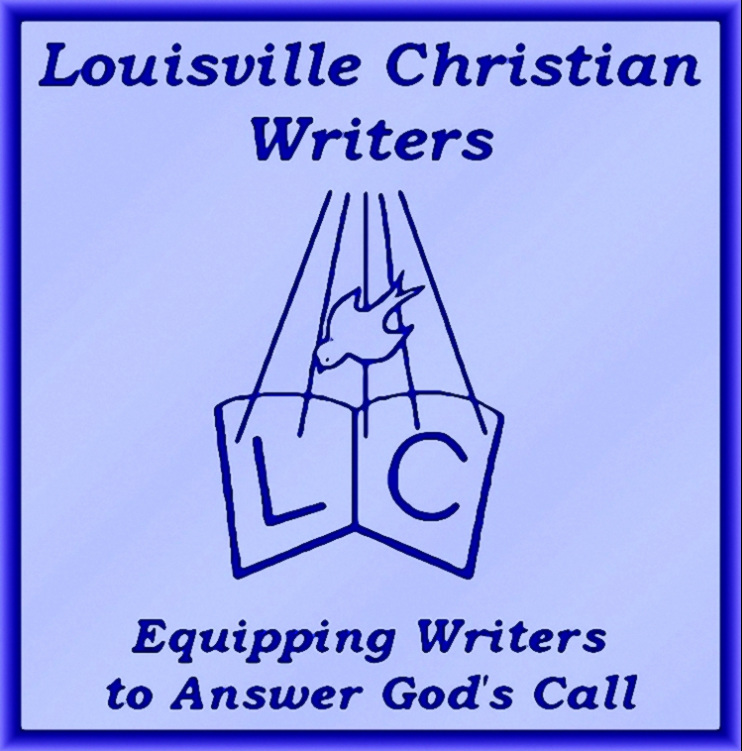 Thank you for visiting the home page for Louisville Christian Writers, aka LCW. To contact us & to see current events, please visit us via the contact icons at the top of any page, or click the e-mail link at the bottom of this page below the info for our upcoming meeting. The secure direct link to our Facebook page is https://www.facebook.com/lcwriters and our Twitter is https://twitter.com/lcwriters. We hope you enjoy your visit, and we hope to see you at one of our local gatherings some second Saturday of the month. So you can plan ahead and mark your calendar, a list of all meeting Saturdays is in the framed image below. Meeting details for the next upcoming meeting are below that. Also, please visit our Google Maps page where you can find our location and get turn-by-turn instructions to get to our meeting place from your starting point. God bless you with His creativity today and always.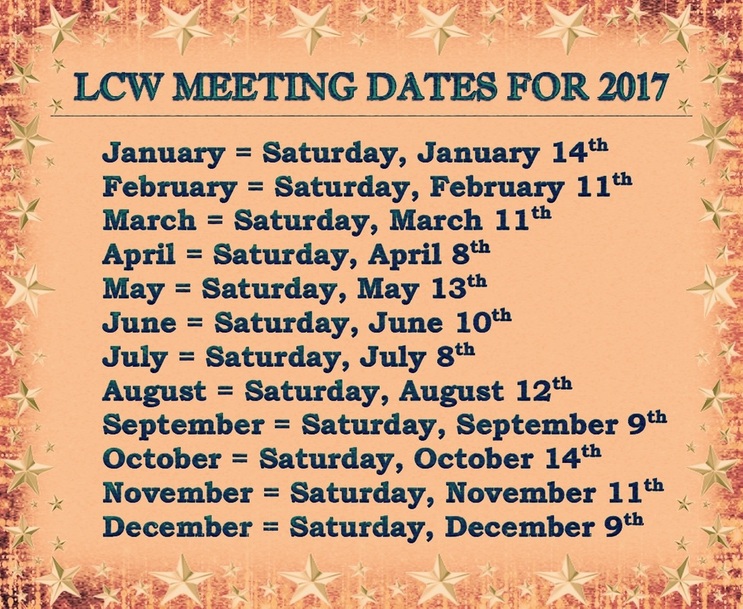 ~~~NEXT MEETING~~~
​
Saturday, July 8th, 2017Speaker: Lisa Prysock--Historical FictionFor our July meeting, we are bringing in a writer, Lisa Prysock, who has visited LCW meetings since 2015 and who brought us some great interactive story-telling at last year's Christmas dinner. In addition, she recently helped one of our long-time members, Mary Varga, get her book (The Light Through My Tunnel) prepared and printed in record time. In her speaking, Lisa tells her stories with great body animation that makes it easy to follow along and listen. Find her full bio and links below.

For this meeting, Lisa will provide a handout with a summary on historical romance writing. In addition, she will teach and answer questions, and then she will also get us into a neat writing exercise on Constructing a Novel.

We should have a great meeting with Lisa, and we will no doubt hear some good news from those who have recently attended the Kentucky Christian Writer's Conference on June 22nd through 24th. See our archives for information to get ready for the 2018 conference.
---
Below is our basic meeting location along with other information.
Location... Community room on basement level LL2 (near the cafeteria) at Norton Audubon Hospital. The building is located just off of Poplar Level Road in Louisville, Kentucky. (For directions, click the Google Maps link above or type "1 Audubon Plaza, Louisville, KY 40217" into your GPS or map program.)
Day/Date... Saturday, July 8th, 2017
Doors Open... 5:00 p.m
Critique Time... 5:15-6:15 p.m. If you're joining us for this meeting, it's a great night to bring something for critique time. (4 to 5 copies of no more than 4 pages of your typed, double-spaced, and spell-checked manuscript.) If you have nothing for critique, you are welcome and encouraged to share your thoughts on someone else's writing. You can also use this time to do your own writing and editing while away from ringing phones and other home distractions. If you're hungry, you can grab a little dinner from the cafeteria or one of the surrounding fast-food restaurants.
Meeting... 6:30 p.m. to 8:30 p.m. Lisa will begin speaking by about 7:00 PM, so come prepared to take plenty of notes and with paper for the writing exercise.
LCW WELCOMES YOU TO OUR MONTHLY GATHERING
To find out more about our former meetings, be sure to browse through our archives of 2014-2017 meeting announcements. The archives include links to on-site documents like our annual goal sheets. Click the archive link in the ribbon banner above.
~~~~~~~~~~~~~~~~~~~~~~~~~~~~~~~~~~~More about Lisa from her writer's bio...Lisa M. Prysock lives in the countryside of beautiful, rolling Kentucky just outside of the greater Louisville area near horse farms and four-board fences with her husband of 19 years. She homeschools the two youngest of their five children (three grown). She and her husband live in an average, two story, Colonial style home they are continually updating-- with a funny looking Heinz 57 dog; an adorably dainty lady cat; two teenagers; a vegetable garden; numerous flower beds; and a tree house undergoing a remodel. When not in teaching or writing mode, she is teaching herself to play the piano and violin. In regards to that, she laughs: "It's a pretty painful process, but I'm truly enjoying it!"

Lisa loves all things old-fashioned and has adopted a slogan of "The Old-Fashioned Everything Girl." A few of her interests and passions include doll houses, long dresses and hats, gardening, reading the Classics, butterflies, swimming, walking, working out, cooking, sewing, crochet, cross stitching, arts and crafts, scrapbooking, decorating, and drawing.

Recently, her husband remodeled a room in their home with a picture window overlooking a valley which contains a creek and wooded area, transforming the space into a serene and sublime writing office/sewing room. "It's a great source of peace and inspiration for me… and pure joy not to be writing from the busy kitchen amidst the household chaos on a laptop. Growing teenagers eating every five minutes makes for a constant stream of happenings!"

Lisa is an Amazon bestselling author of To Find a Duchess, an Inspirational Regency Romance; a Victorian Christian Romance Series which includes Hannah's Garden: a Turn of the Century Love Story and Abigail's Melody; and 'The Lydia Collection,' which includes The Redemption of Lady Georgiana (a Ruth love story of modern day Regency proportions), Protecting Miss Jenna (an Antebellum Era Christian Romance Adventure), and Persecution & Providence (a 'Jane Austen-ish' mail order bride story from the Pioneer Era). She is also the author of a devotional/Bible Study, Arise Princess Warrior and recently released The Shoemaker, an Old-Fashioned Regency Christmas Romance. Lisa writes clean and wholesome literature that shares her faith in Jesus Christ. She is a member of ACFW and Louisville Christian Writers. You can find out more about Lisa at: www.LisaPrysock.com

Links:
https://www.facebook.com/LisaMPrysock
https://twitter.com/LPrysock
www.LisaPrysock.com
https://www.amazon.com/-/e/B00J6MBC64 ~~~~~~~~~~~~~~~~~~~~~~~~~~~NOTE: If you are a Kentuckiana Christian who writes, please come meet our members to see if you would like to join this group of writers and creators for our monthly meeting on the 2nd Saturday of each month. We will welcome you with God's Spirit of love and joy as we encourage you to pursue the gifts God has blessed you with. Write to us at the link below, or on our Facebook page or Twitter page (icons above), for more information.
---
In the Amazon links below, you can find some books by authors that are (or have been) members of Louisville Christian Writers. When you visit the links, be sure to click the author names to see what other books (including Kindle versions) they have available.
---